Set the Tone: Year-End Sparkle
As we wrap up 2023 and gear up for a peaceful and relaxing holiday season, we have incredible new jewels for both gifting and wearing on the party circuit. Our founder Laura demos maximalist accessorizing while December's Sagittarius celebrates with an icy blue birthstone and we all get ready to (cocktail) ring in the new year.
Shop Collection
Discover the West Coast Vibes of Brooke Gregson
Brooke Gregson designs fine jewelry that reflects her West Coast roots. Rich in colored gemstones, nature's most precious and finite resource, her collection of one-of-a-kind pieces is handmade in London and Los Angeles. Discover the unique designs and hidden details that have made her a collector darling since 2006.
Shop Collection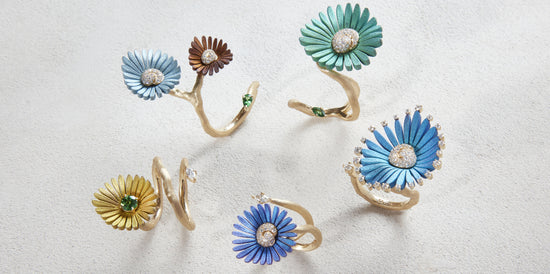 Mike Joseph's Space-Age Metal
From his workshop in Bangkok, master jeweler Mike Saatji, creative director of Mike Joseph Jewellery, works magic on titanium (lightweight, corrosion-resistant and blushes a kaleidoscopic range of colors when anodized). Saatji takes things up a notch with his Petali collection, featuring titanium with a unique matte finish — one reason why, at BE, we simply call him "The Alchemist."
Go to Shop
Pamela Love's Take on Surrealism
Transportive yet highly wearable pieces embrace the surreal in an easy to style way.
Shop Collection
Designers Embracing Emeralds
Add a pop of green to your everyday stacks.
Shop Collection
The Power of Pavé
It's not always about a big stone. Extra small = extra sparkle!
Shop Designer
A Sentimental Locket
Lockets are the quintessential heirloom jewel.
Shop Now
Arunashi
Provocative and elegant works of walking art.
Shop Designer
Laura's Picks: A Diamond Refresh
Hi all! It's BE Founder Laura back with a new edit and this month it's all about everyone's favorite gem: diamonds. For anyone looking for some fresh sparkle, we have so many amazing new diamond pieces from designers we love and vintage styles that stand the test of time. I'm so excited to share with you my favorites, fit for all day wear, a glamorous evening out and everything in between.
Shop Collection
Bold, Gold and Fabulous
Discover the "all eyes on me" aesthetic of Marina B.
Shop Designer
Mix It Up: Monochromatic Dressing
Build your own single tone head-to-toe look.
Shop Collection
Your Zodiac & Birthstone Reading
This month, it's all about Sagittarius.
Get Your Reading
Set the Tone: Grateful
Our favorite jewels of the season are yours for the taking.
Go to Shop
Eyes on the Prize
Symbols of protection, consciousness and truth.
Shop Collection