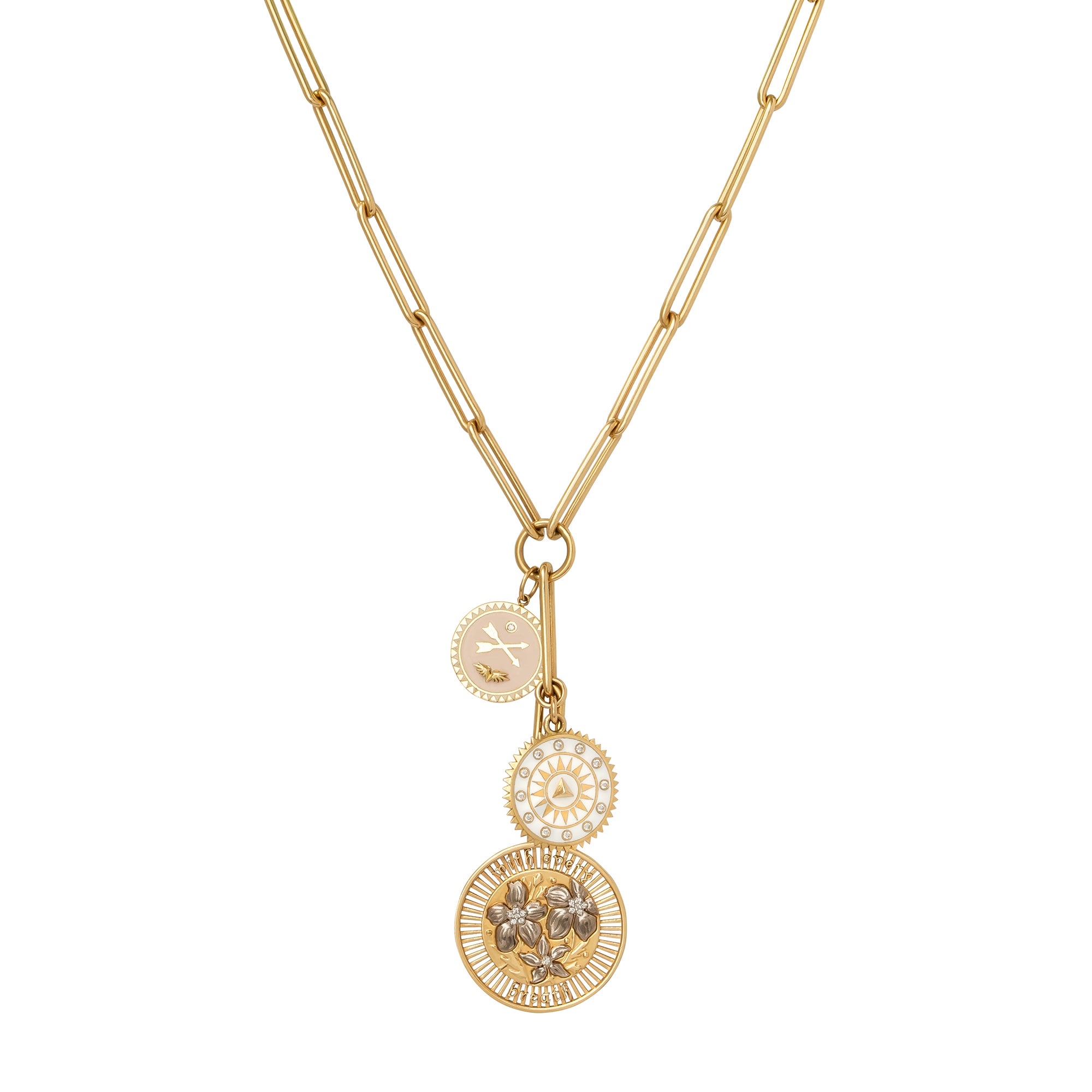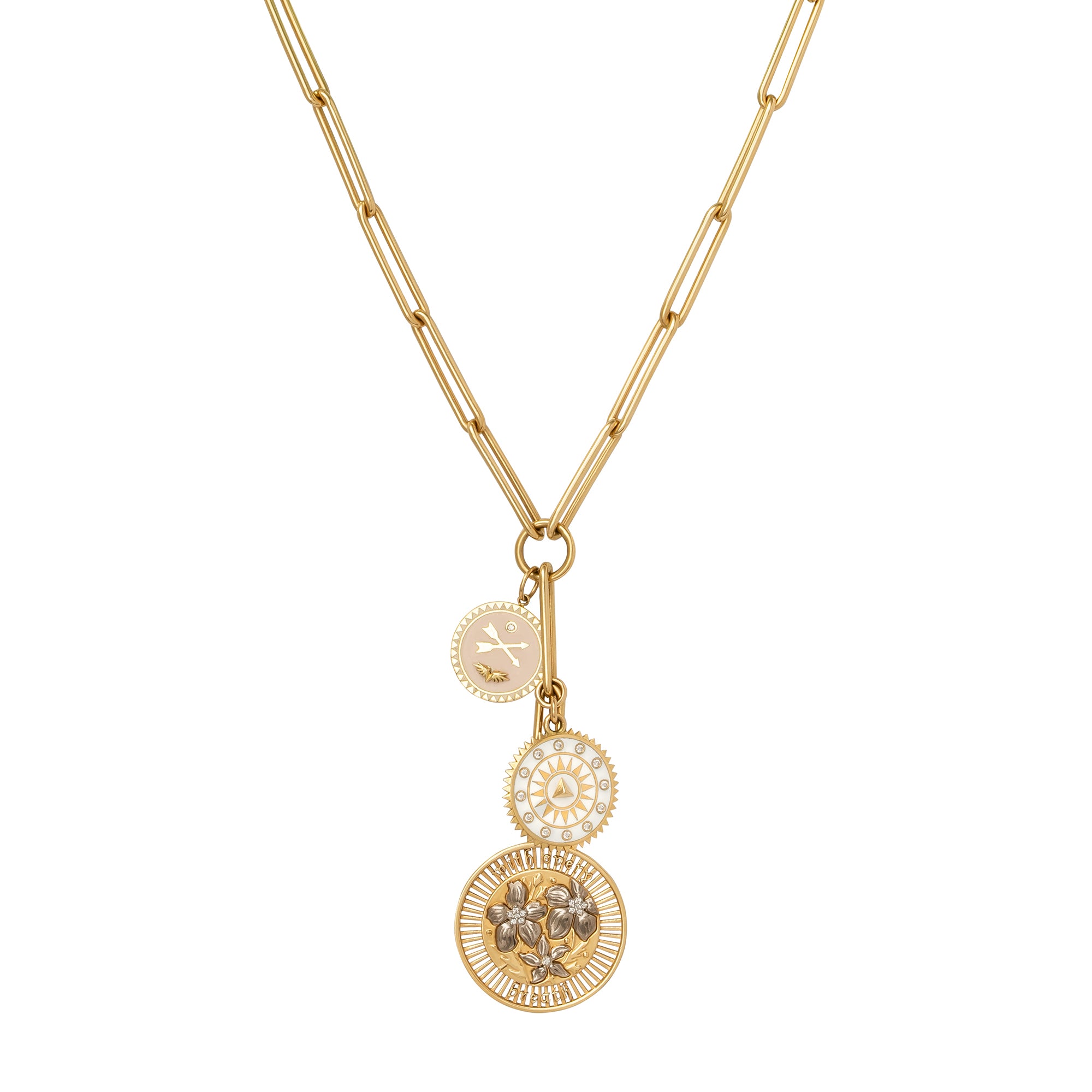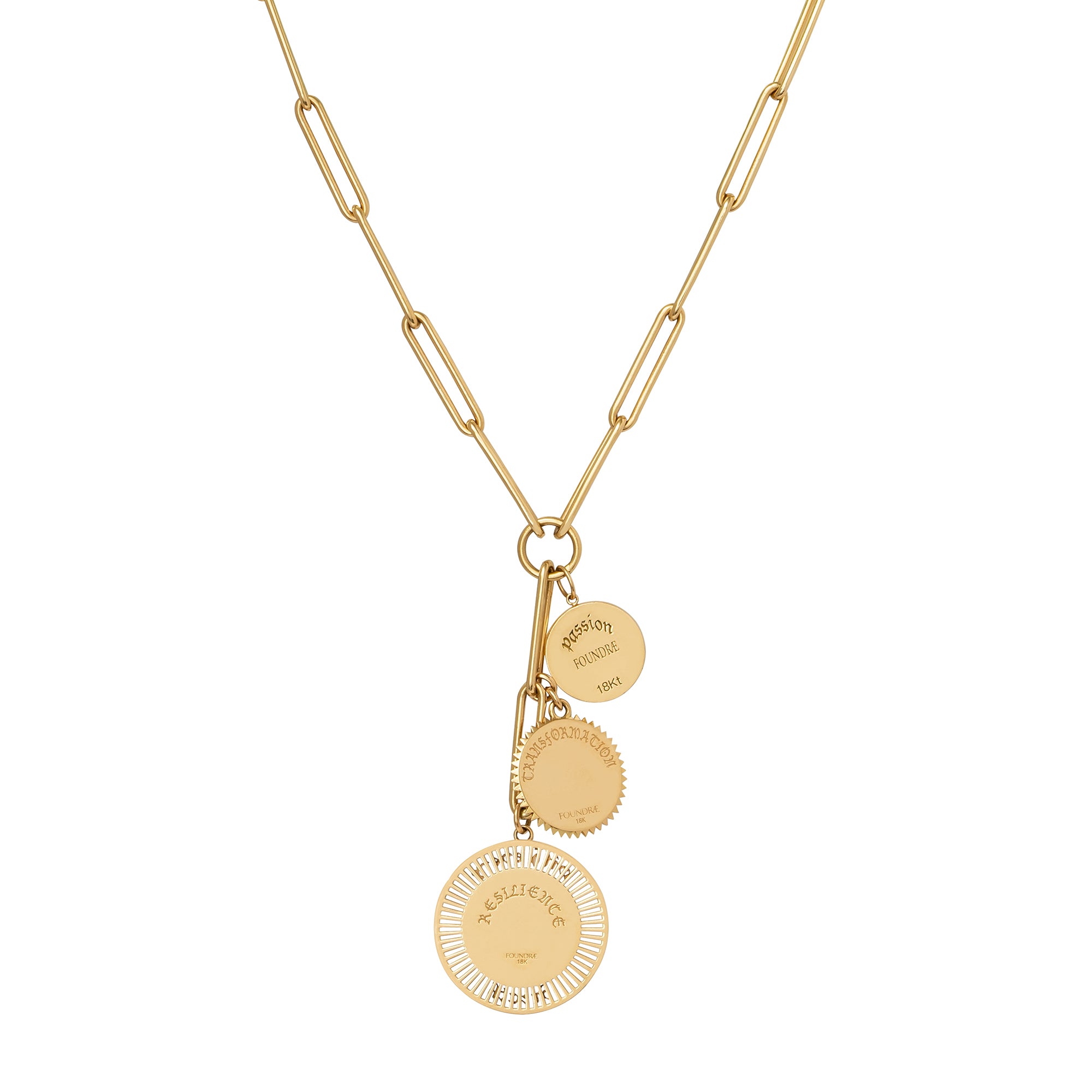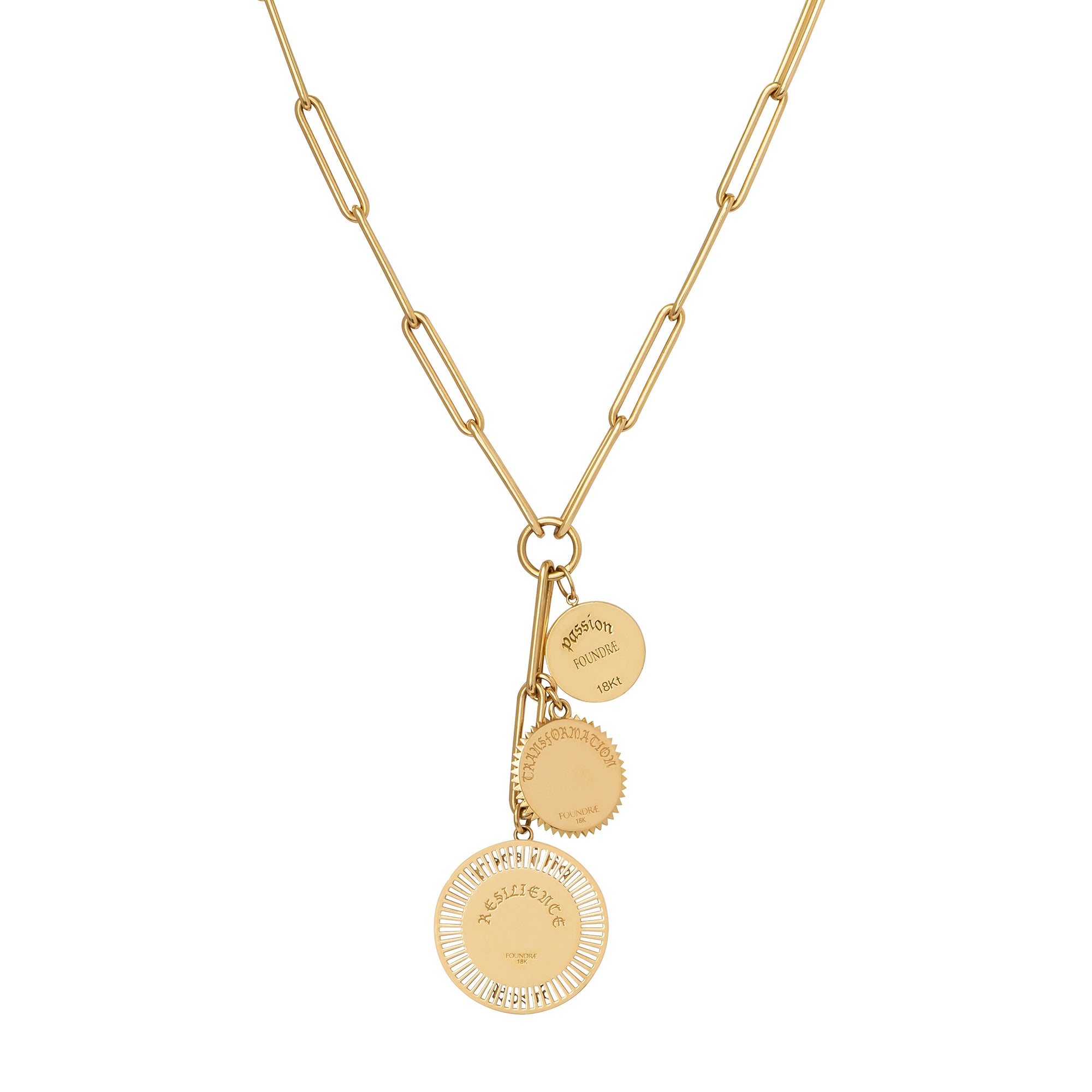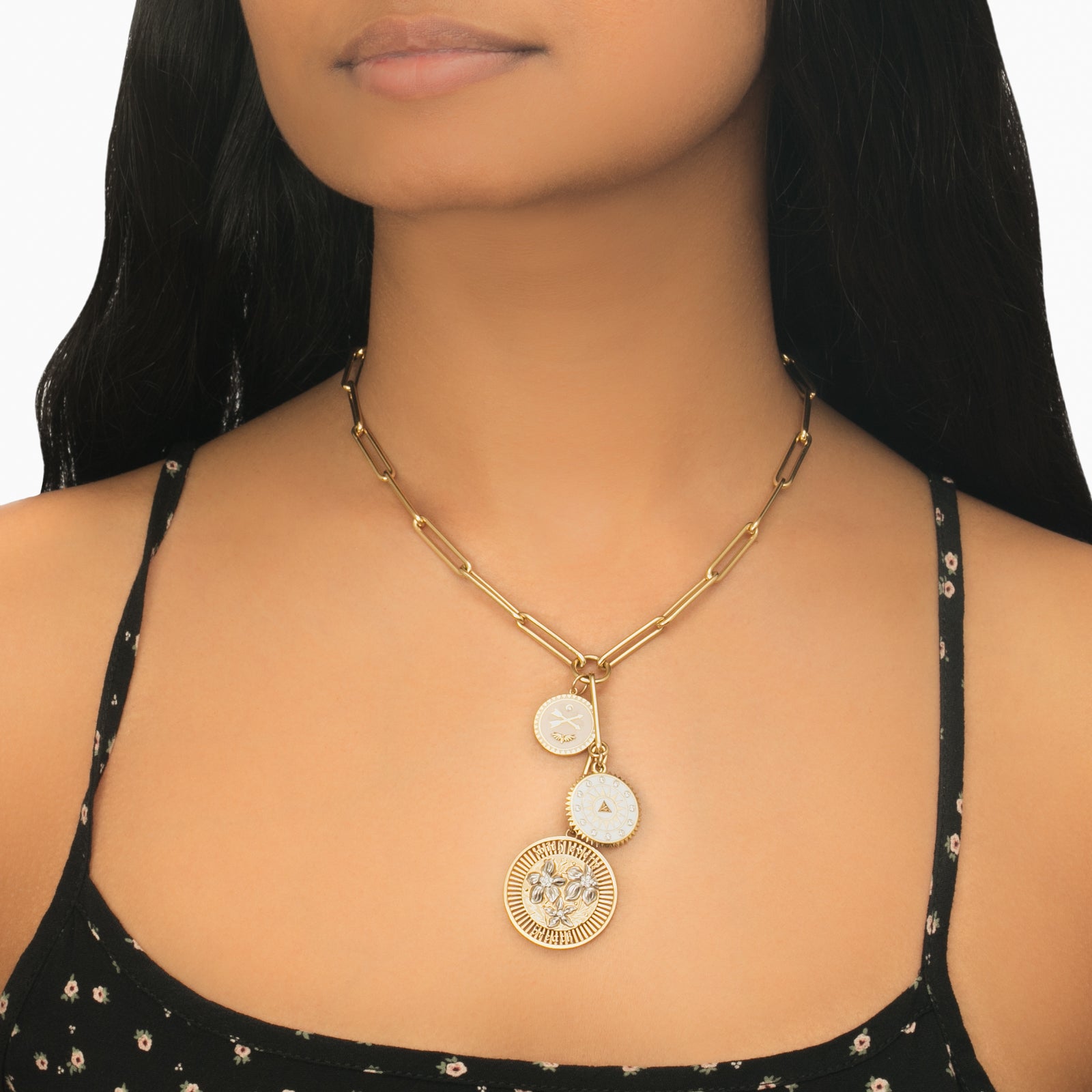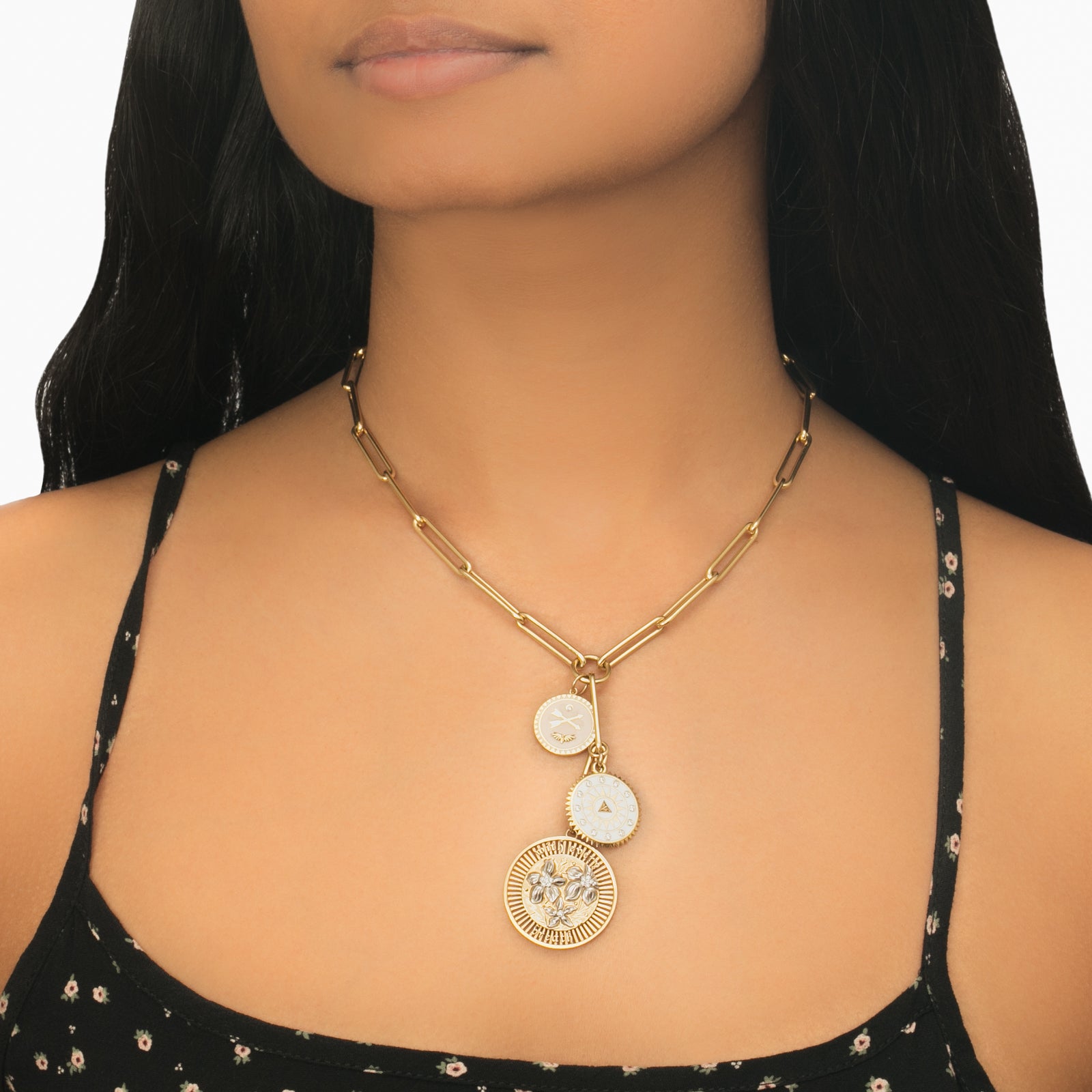 Passion, Pyramid and Resilience Mixed Medallion Necklace
Product Id:

M56+CM64 Resilence+CM15 Pyramid+CM1 Passion
Description
This mixed medallion necklace is made with 18k yellow and white gold, white diamonds and champlevé enamel. This necklace features passion, pyramid and resilience medallions. This necklace represents passion and resilience.
Passion: Encouragement to live life passionately and fully. With wings we are creatures of the limitless sky. No longer earthbound, with wings we fly. Two arrows cross to form a new whole; a union of friendship, of love, that didn't exist separately as well as the indication of a new crossroads led by choosing a life filled with passion. A star for energy & divine guidance. 
Pyramid: Dream forward. We can actualize our dreams. The divine triangle is often associated with pyramids, arrowheads and sacred mountains, it is also the fire sign in the classical elements. It represents the journey of self-discovery, transformation & ascension.
Resilience: Resilience. Wild, abundant and untamed, the blossoms are fed with passion and continue to bloom, even in darkness, against adversity. But we can't separate the flower from its thorn. The Thorn is the risk we assume for something we love, for living life fully without reserve.
18K yellow gold
Diamonds: 0.046CTW
Medallions: 15mm, 20mm, 28mm,
Chain length: 16"
Champlevé enamel: an ancient enameling technique in which troughs are cast in the gold and filled with vitreous enamel. The piece is fired until the enamel fuses with the gold and is then polished until smooth.
Return & Exchanges
Read our full policy here...
Shipping
• Free Ground Shipping on orders in the US
• Free 2nd Day Shipping on Orders in the US over $1,000
• Free Next Day Shipping on Orders in the US over $5,000
• International Flat-rate Shipping of $100
• Non-jewelry and most items under $100 with USPS shipping rates at checkout
If you require an upgrade in shipping, please contact our Client Care Team at support@brokenenglishjewelry.com.
Read our full policy here...